Small Gold Gloss Laminated Paper Gift Bags - Portrait - 15 x 20 x 8 cm (6 x 8 x 3 inch )
Pricing Option
1 pack= 100 Pieces
Price per Pieces
Price per Pack
Order Online 24/7
1 to 4 Packs
100 to 400 Pieces
0.63
£62.66

*

5 to 10 Packs
500 to 1000 Pieces
0.61
£61.05

*

Over 10 Packs
Over 1000 Pieces
0.59
£59.45

*
More Sizes of Gold Paper Bags in Gloss Lamination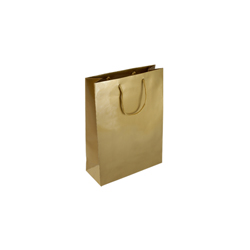 Extra Small Tiny Gold
Paper Bag Gloss
Type No: 67
Code: PGL87XSG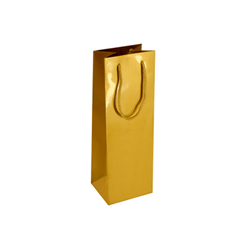 Wine Bottle Bag Gold
Wine Bottle Bag Gloss
Type No: 22
Code: PGL87WB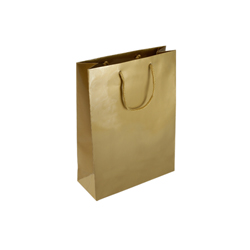 Small Gold
Paper Gift Bag Gloss
Type No: 7
Code: PGL87SG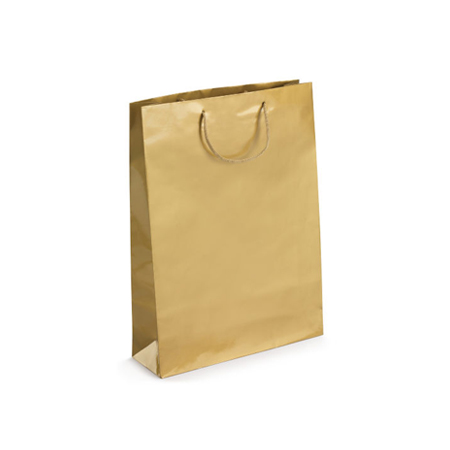 Small Gold
Paper Bag Gloss
Type No: RP16
Code: PBPE18G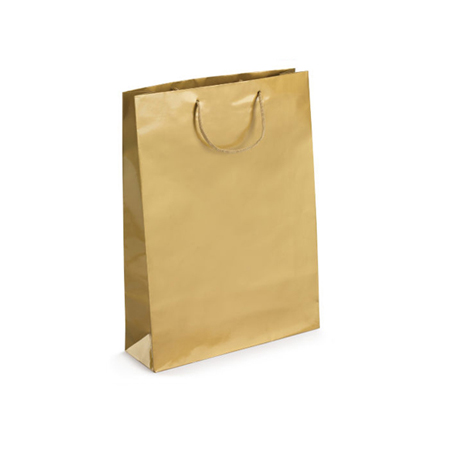 Large Gold
Paper Bag Gloss
Type No: RP28
Code: PBPE25G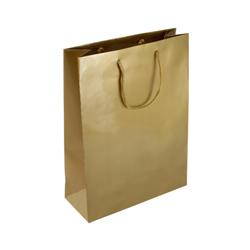 Medium Gold
Paper Bag Gloss
Type No: 15
Code: PGL87MG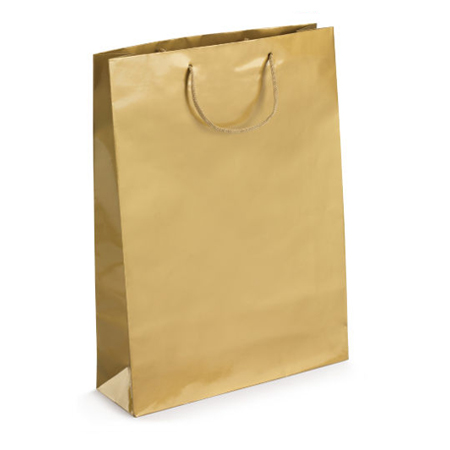 Large Gold
Paper Bag Gloss
Type No: RP17
Code: PBPE32G
Large Gold
Paper Bag Gloss
Type No: 100
Code: PGL87LG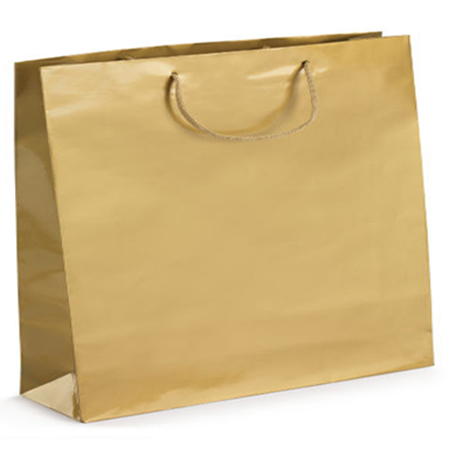 Ex Large Gold
Paper Bag Gloss
Type No: RP18
Code: PBPE52G
More Sizes of Gold Paper Bags in Matt Lamination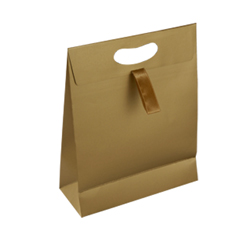 Medium Gold
Paper Gift Bags Matt
Type No: 107
Code: RGL87MM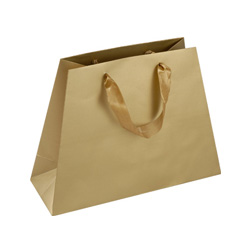 Medium Gold
Paper Gift Bags Matt
Type No: 106
Code: VGL87MM
More Sizes of Gold with Kraft Paper Carrier Bags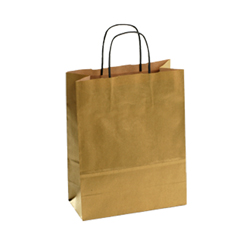 Medium Gold
Kraft Paper Bag
Type No: 226
Code: TGL722MK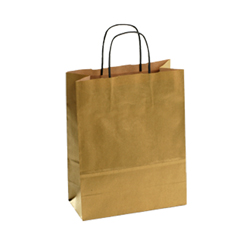 Large Gold
Kraft Paper Bag
Type No: 227
Code: TGL722LK
Other products in Gold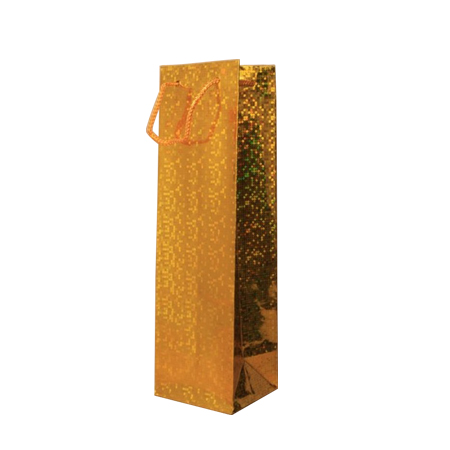 Bottle Gift Bag Gold
Holographic Gift Bag
Type No: IN155
Code: 0494IN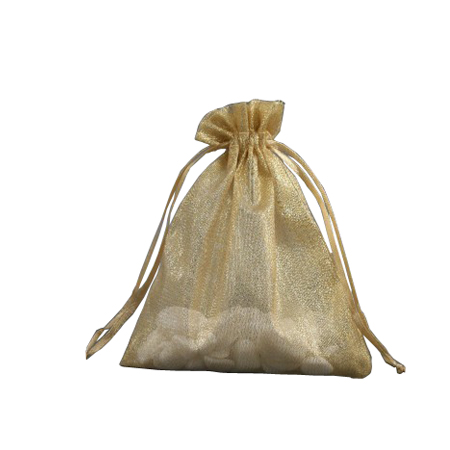 Small Gold with Shiny Silver Thread
Organza Bags
Type No: GC79
Code: 1052GC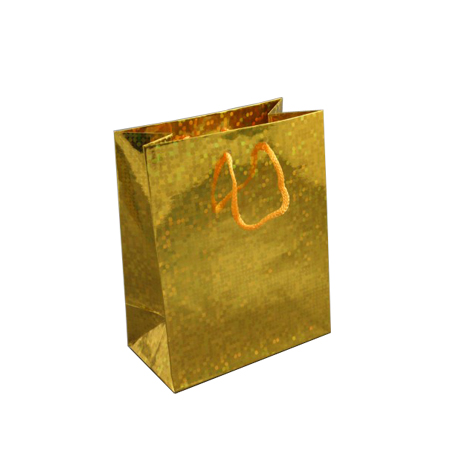 Small Gold
Holographic Gift Bag
Type No: GC114
Code: 1305GC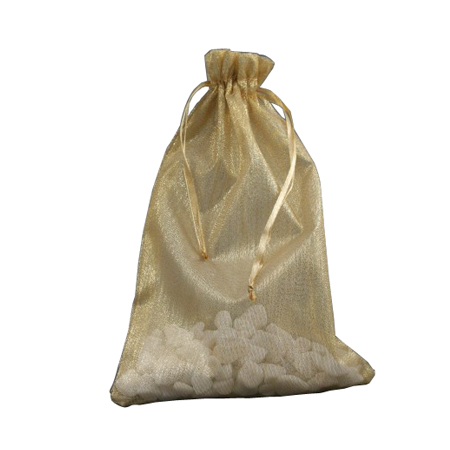 Medium Gold with Shiny Silver Thread
Organza Bags
Type No: GC80
Code: 1053GC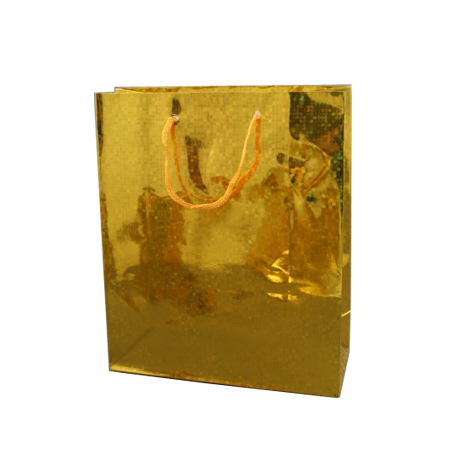 Medium Gold
Holographic Gift Bag
Type No: GC115
Code: 1306GC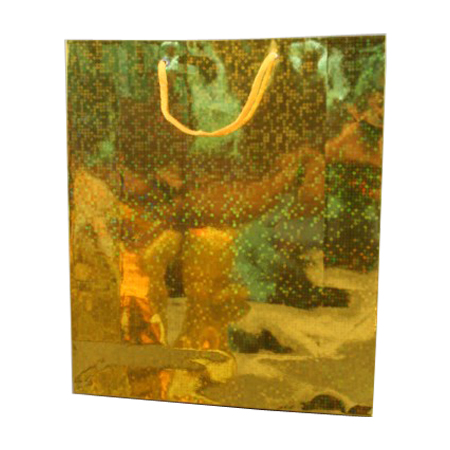 Large Gold
Holographic Gift Bag
Type No: GC116
Code: 1307GC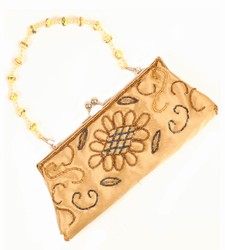 Gold with Blue/Bronze Sequins
Ladies Handbags Inner Satin Lining
Type No: 719
Code: LHB19SM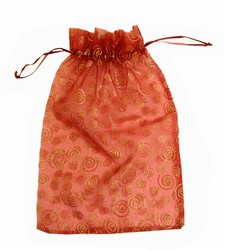 Extra Large Giant Maroon & Gold Swirls & Stars
Organza Bags
Type No: 487
Code: ORZ37XL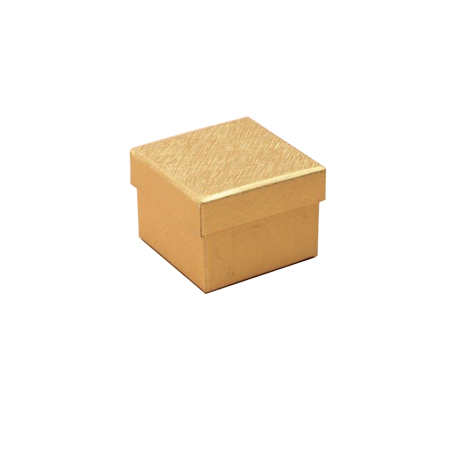 Ex Small Gold
Gift Boxes
Type No: IN21
Code: GB0339IN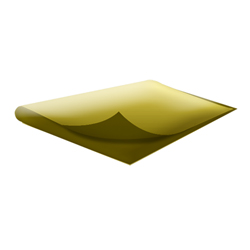 Large Gold
Tissue None
Type No: 420
Code: TIS020GL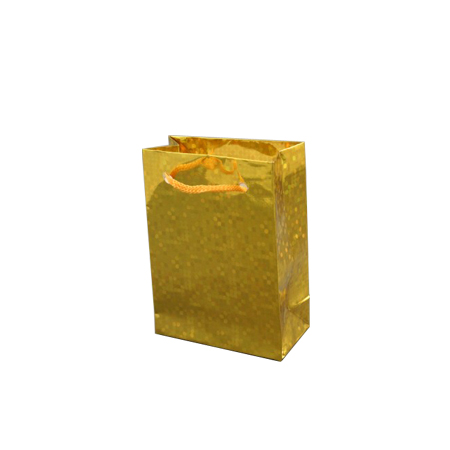 Small Gold
Holographic Gift Bag
Type No: GC113
Code: 1304GC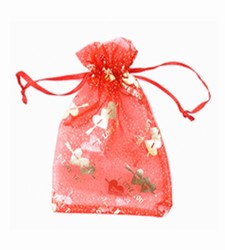 Small Red & Gold I Love You
Organza Bags
Type No: 462
Code: ORZ12SM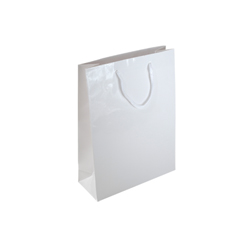 Small White
Paper Gift Bag Gloss
Type No: 1
Code: PWH81SG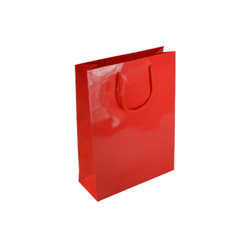 Small Red
Paper Gift Bag Gloss
Type No: 2
Code: PRD82SG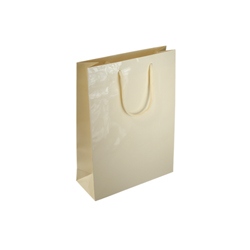 Small Cream
Paper Gift Bag Gloss
Type No: 3
Code: PCR83SG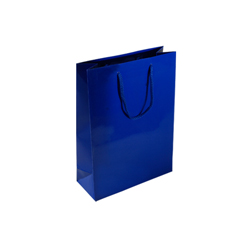 Small Royal Blue
Paper Gift Bag Gloss
Type No: 4
Code: PBL84SG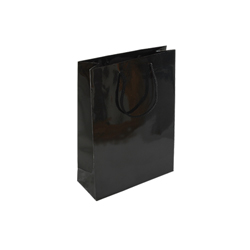 Small Black
Paper Gift Bag Gloss
Type No: 5
Code: PBK85SG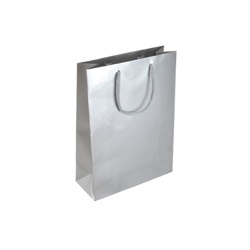 Small Silver
Paper Gift Bag Gloss
Type No: 6
Code: PSL86SG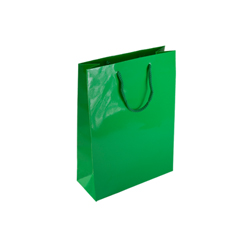 Small Green
Paper Gift Bag Gloss
Type No: 23
Code: PGR89SG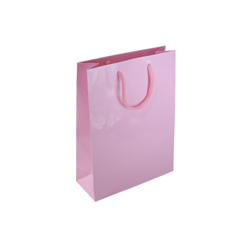 Small Baby Pink
Paper Gift Bag Gloss
Type No: 24
Code: PPK88SG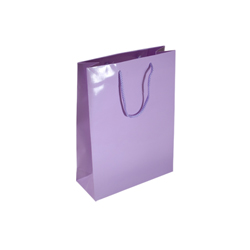 Small Lilac
Paper Gift Bag Gloss
Type No: 25
Code: PLC91SG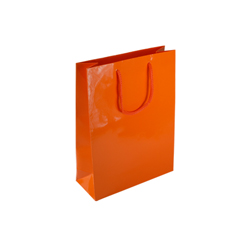 Small Orange
Paper Gift Bag Gloss
Type No: 43
Code: POR90SG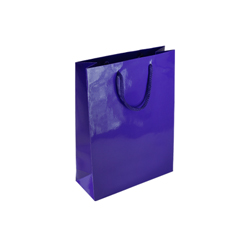 Small Purple
Paper Gift Bag Gloss
Type No: 44
Code: PPL92SG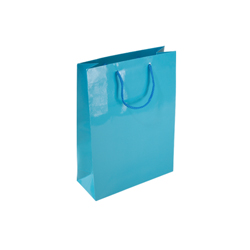 Small Sky Blue
Paper Gift Bag Gloss
Type No: 46
Code: PSB84SG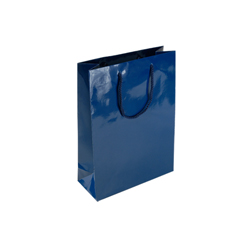 Small Navy Blue
Paper Gift Bag Gloss
Type No: 47
Code: PNB84SG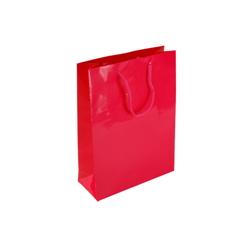 Small Dark Pink
Paper Gift Bag Gloss
Type No: 48
Code: PDP88SG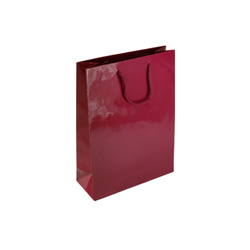 Small Burgundy
Paper Gift Bag Gloss
Type No: 84
Code: PBY94SG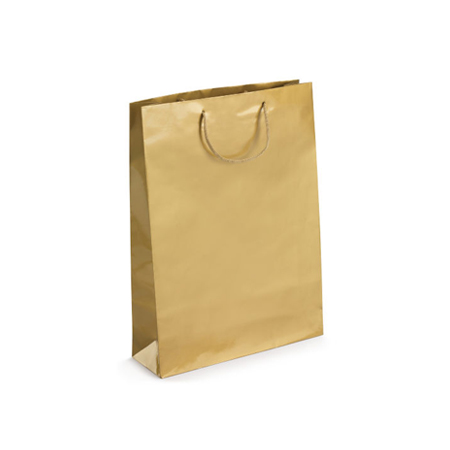 Small Gold
Paper Bag Gloss
Type No: RP16
Code: PBPE18G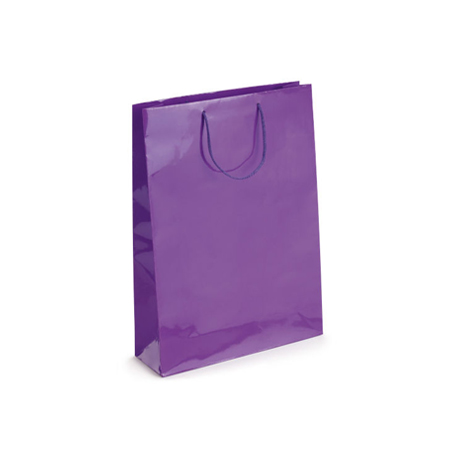 Small Purple
Paper Bag Gloss
Type No: RP19
Code: PBPE18V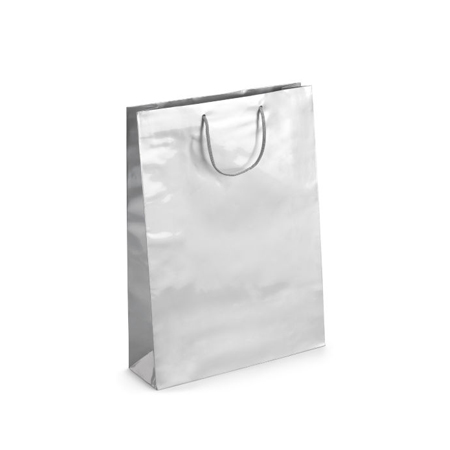 Small Silver
Paper Bag Gloss
Type No: RP24
Code: PBPE18S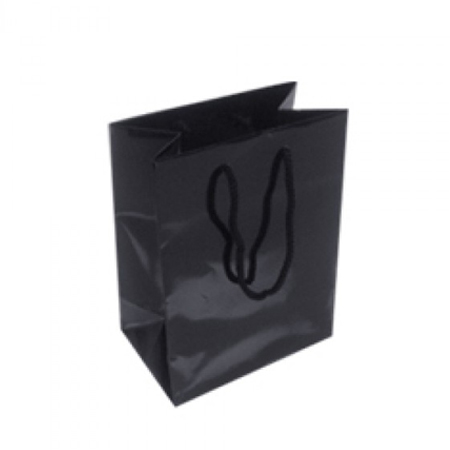 Small Black
Paper Bag Gloss
Type No: MP60
Code: PB696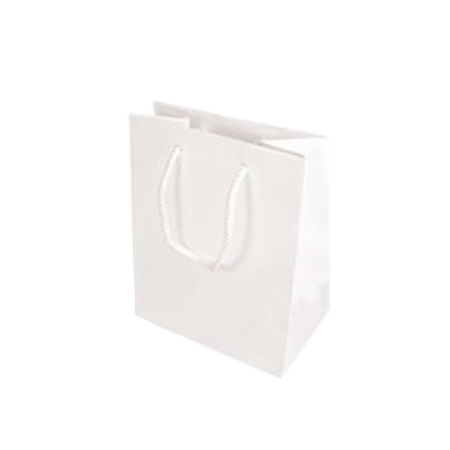 Small White
Paper Bag Gloss
Type No: MP63
Code: PB695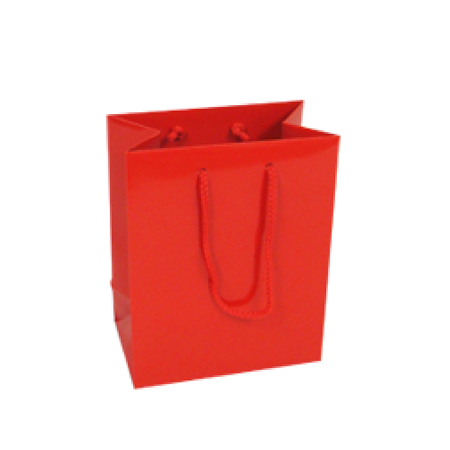 Small Red
Paper Bag Gloss
Type No: MP66
Code: PB6103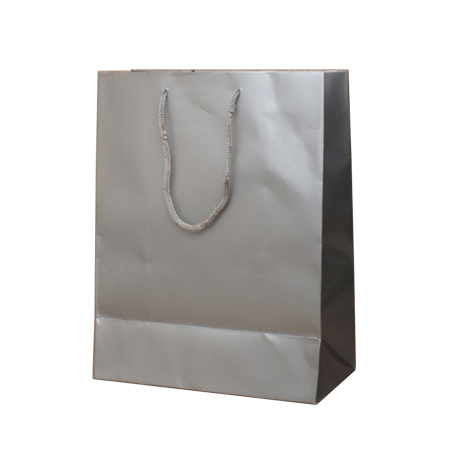 Small Silver
Paper Bag Gloss
Type No: IN133
Code: 0338IN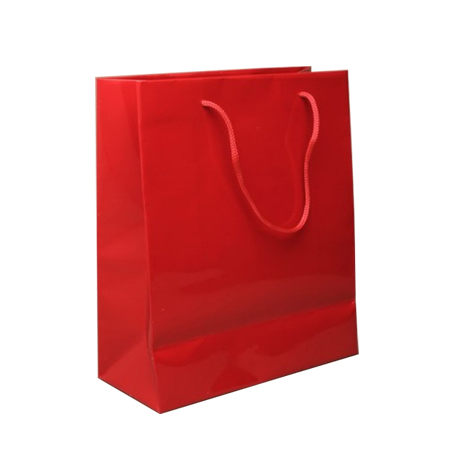 Small Red
Paper Bag Gloss
Type No: IN142
Code: 0335IN
PGL87SG

7

Gold

15 x 20 x 8 cm (6 x 8 x 3 inch)

Gloss

230gsm Art Paper With Top & Bottom Reinforced Card

Matching Rope Handles

Portrait

100Pieces

5 kilo

32x25x20 mm
Small Gold Gloss Laminated Paper Gift Bags - Portrait - 15 x 20 x 8 cm
Many people think that paper bags are just paper bags that are flimsy, easy to tear, shrivel prone, easily dampened, dull looking and many other negatives. Well itís comforting to know that here in the UK all that nonsense disappeared long ago.
The paper bags now are not flimsy but strong and durable! The outer frame is very strong Art paper which is reinforced by gloss lamination and doubly reinforced by inserted cardboard pieces at both ends to prevent the bottom from collapsing and keeping everything safe within while youíre on the move. How? The rope handles take care of that aspect.
They donít easily shrivel up from contact with water. Why? Because the gloss lamination renders them waterproof! For such a wide range of qualities youíd think the small gloss laminated rope handle paper bags would be too expensive! Wrong again as the small gold coloured paper bags are highly affordable.
Regarding the allegation that the paper bags appear ďdullĒ, well these small gloss laminated paper bags are coloured gold and with a bit of light they do display a golden sheen that leaves the mouth agape with surprise and wonder. Browse the link
www.shoppingbagsdirct.com
or ring +44 (0) 207 993 3813
to learn more about these colossal paper bags.
†
Delivery Information
All Plain Stock Orders are despatched the same day if ordered before 3.15pm
Delivery charges will be displayed when placing an online order and once products are added in your basket just before you proceed to checkout. You can then choose your delivery option according to your requirement.
Next business day and Saturday delivery is available for all orders placed before 3.15pm. (subject to stock availability)
You can check delivery charges online when you proceed with your order, Online delivery charges are available for England, Wales, Republic of Ireland, Northern Ireland, Scotland mainland, Scotland Off-shore Islands, Isle of Man, Isle of White, Jersey, Guernsey, Alderney, Sark.
Standard Delivery:-
Standard delivery can take between 1 to 3 working days depending on your post code.
Free Delivery on orders over £200.00 only for Plain Stock Items:-
In order to provide quality product and quality service, we provide FREE delivery charge for orders over £200.00 excluding VAT. Free delivery charge is only available for to England, Wales and Mainland Scotland. Palletised delivery service will be arranged for any larger orders depending on size and weight for the particular products ordered. All orders are placed during weekend or bank holiday will be processed on the following business day and will be delivered accordingly.
More about your delivery:-
We always use prestigious and reputable courier companies mainly Fedex and TNT or DPD. Your order will be delivered between 8.00am and 6.00pm. If courier company miss you when they attempt to deliver, the driver may leave your package(s) with your neighbour or the driver will leave you a calling card to re-organise the delivery for another day. This is very important that re-deliveries cannot be arranged for Saturday or Sunday due to high charges. If any deliveries are missed in the event of unfortunate service interruptions or service failures caused by adverse weather conditions which are beyond our control.
+44 (0)207 993 3813 (Local Rate) Fax. +44 (0) 845 226 7375 (Local Rate)

Please think about the environment, think about the Forest, think about the Energy. Please ONLY print this email if you really need to.
Option 1: Overprinting /Screen Printing
OverPrinting & Screen Printing available on Plain Stock Bags for small Quantity & Quick delivery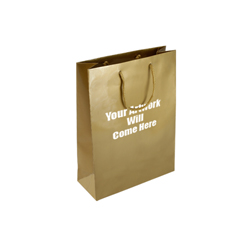 Click here for
***Artwork Information***
The Prices shown here are only for Plain Bags, Printing cost will be added for Overprinted Bags
Looking for 100 or more than 1000 within 1 to 3 weeks & like to have something Printed on this Gold bag then you are in the right place.
To Overprint/Screenprint on this plain Gold bag

Option 2: Custom printing
100% Bespoke made to measure Custom Made Printed Luxury Paper Bag with Full Colour Printing available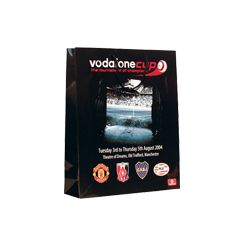 Any Colour, Any Size, Any Shape with all over printing
***Artwork Information***
Looking for 1000 or more and willing to wait 4 to 6 weeks or 8 to 10 weeks then you can have your Specific Size and shape & to have full color Printing.
Have your Printed Bags to your choice