Paper Bags
At Shopping Bags Direct, you can find an exciting range of paper bags available in different styles, designs and patterns. If you are looking for the best marketing and advertising strategy, try our high-quality paper bags. These days top companies are using printed paper carrier bags to stay ahead in the market, by using them to increase brand awareness. These eye catchy paper bags attract people to shop, due to their engaging design and detail incorporated onto the bags. We are here to provide you with customised paper bags in various colours, shapes and styles, so you can get ahead of your competitors with the use of paper bags. With these branded paper bags, you can attract a number of customers at just one glimpse and can boost up your clientele. We have a team of the highly skilled and professional team of designers who are always eager to offer you some useful tips and recognitions as well, making us reliable paper bags suppliers UK.
We have worked with multiple small businesses and brands belonging to industries, including fashion, medical, design, printing, sales, trade media, news, etc. We believe in customer satisfaction, and we pride ourselves on our ability to see customers return to us again and again to purchase our high-quality paper bags.
High Quality Paper Bags
Despite having high-quality paper bags, we proudly provide our clients with cheap paper bags UK in a variety of colours, so our clients have a cost-effective way to market their brand. As well as our brown paper bags, we have a luxury range of cheap paper bags UK in various different colours, which are available in Black,White, Silver, Red, Cream, Green, Baby Pink, Dark Pink, Royal Blue, Navy Blue, Gold, Purple, Orange, Sky Blue, Aqua Blue and Lilac. Our coloured paper bagsare a beneficial marketing tool, as they appeal to the buyer and grab their attention.
As premier paper bags suppliers UK, in addition to having a wide variety of colours, we also have a selection of different stylesfor you to choose from. These include, Rope Handle, Flat Handle, Twist Handle, Ribbon Handle Paper Bags and many more. Our range of flat paper bags with a reinforced base and flat handles, allows you to carry a heavy product with ease.
Our high-quality paper bags are available in several different styles, including;
If you're interested in our cheap paper bags UK, you can download our catalogue via our website, or you can request a copy by post and read it at your leisure. To place an order from a top paper bags suppliers UK, you can give us a call or use our secure online store; we accept all major credit cards and offer competitive shipping rates.
Gloss Laminated Paper Bags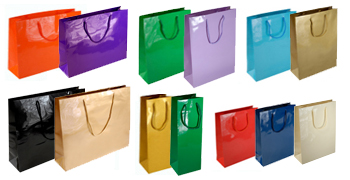 This premium selection of paper carrier bags are made from high quality thick Ivory card art paper with matching rope handle. Gloss lamination make the bag more stronger and durable. We can print your company name on them and they are the best for promoting your business. This bags are available in 20 different beautiful colours. our medium bag A4 size is very popular. We are one of the best wholesale paper carrier bags suppliers in UK. Either you are looking for paper bags with or without handle, we must have something for you. If you are looking for cheap gift bags either in plain or personalised, we can provide the best solution for you. Our online store features have all the most preferred and frequently chosen gift bags styles and designs. Using promotion bags for brand promotion is both affordable and effective.
Matt Laminated Paper Bags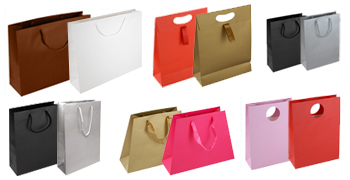 Matt laminated paper bags are very popular for high street boutique for any kind of high end designer items. They are made from 230 gsm thick art paper with both side coated to give it a smooth finishing. This bags are available in 6 different sizes. We can overprint/screen print on this stock bags. If the stock bags sizes are not right for you, we can offer customised sizes. Either you are looking for Rope handle, Ribbon handle or Die cut handle or sausage shape handle cheap paper carrier bags, we have a fantastic range to choose from. Huge range of plain stock paper bags are ready for next day delivery to all main land UK. Brown Kraft paper bags and white Kraft paper bags are commonly used in most of the retail products; This bags are greaseproof and can be sued for replacing plastic carrier bags.
Paper Bags with Die Cut Handle
Paper Bags with Ribbon Handle