Customise your bag and put your brand to work
Who knows about your business? Well, you do. But you also know that you need your brand name and image out about town, on city streets, in offices and school staffrooms, in workplaces and on the school-run. What better way to advertise your business than with a stylish bag from shoppingbagsdirect ? The kraft paper carrier bag, the snappy gift bag, or the cotton shopping bag from shoppingbagsdirect are just the job. But how to use them to maximum effect? Just ask the friendly people at shoppingbagsdirect to customise your bag and put your brand to work.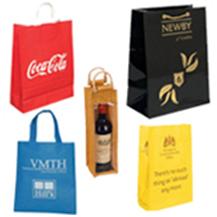 There are lots of ways to customise your bag. There is a large range of colours, shapes, styles, and finishes available for immediate delivery at shoppingbagsdirect. But you may want to have a bespoke bag made for you – no problem, just ask shoppingbagsdirect.
Even without a bespoke bag, there are lots of other ways to customise your bag. It's worth taking a minute or two to consider all the possibilities:-
Customise Your Bag With Colour
You may already have a colourway for your business. At shoppingbagsdirect there is a wide range of stock colours to choose from, with up to 16 colours on luxury laminated paper carrier bags, 12 colours on kraft paper bags and 6 pre-dyed cotton shopping bagcolours. Keeping to a brand colour scheme both enhances your image and adds vibrancy to your overall package to the customer.
Customise Your Bag With Pattern
Even within a colourway, you can add patterns to your kraft paper bags or gift bags. At shoppingbagsdirect you will find exciting patterns and bright colours on trendy kraft paper gift bags, and flowers, bubbles, ribbons, bows, stripes, balloons, and many more on the range of luxury laminated gift bags.
Customise Your Bag With Style
Not all bags are the same. Choose from square-cut luxury laminated bags in gloss or matt finish with rope handles, or die-cut bags with ribbon ties, or groovy, retro luxury laminated bags with round die-cut handles, or fashionable pyramid bags with ribbon handles. Any one of these luxury carrier bags from shoppingbagsdirect will add style and character to your offer.
Customise Your Bag With Your Brand
This is where shoppingbagsdirect can really help. Having matched your colour to your brand and chosen your style of bag, you need to get your brand out there, working for you. The friendly people at shoppingbagsdirect will help you get the best from your brand with over-printed carrier bags and shopping bags. Your brand name, your logo, your strap line, your image can be on your carrier bags, gift bags and shopping bagsfromshoppingbagsdirect within days. Nothing is more important than getting your brand out onto the high street.
Customise Your Bag With Imagery
Pictures do speak louder than words. Clean, crisp artwork on a customised bag from shoppingbagsdirect adds to your brand. It confirms that you are selling a quality product and care about detail. An image matched to your brand will enhance your package still further. Simple, bold, monotone or two-tone images often work best on carrier bags or shopping bags. Keep it simple – keep the message clear. The staff at shoppingbagsdirect will be delighted to help you get the best from your artwork.
Customise Your Bag With Flair
Your business may suit a customised bag with something a little out of the ordinary. A jute bottle bag fromshoppingbagsdirect with your bottle printed on it. A laminated gloss wine bag from shoppingbagsdirect with your premium wine printed on it. A kraft Take Away bag from shoppingbagsdirect with your food, hot and steamy, on the outside as well as inside.A Valentine's gift bag from shoppingbagsdirect with your personal valentine. A Wedding gift bag fromshoppingbagsdirect with the happy couple. A cotton shopping bag from shoppingbagsdirect with a line drawing, a cartoon, even your silhouette if yours is a very personalised offer. Wherever your imagination takes you, the staff at shoppingbagsdirect can help you realise your dream.
More News & Articles